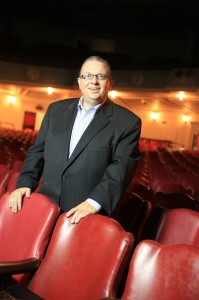 At the tender young age of 7 Jimmy saw his first ventriloquist ever. From that moment on his life would never be the same. Shortly after that Jimmy saw a ventriloquist figure in the J.C. Penney Christmas catalog and begged his grandmother for one… That Christmas Bobby arrived. He began entertaining for family friends, then in his church, eventually banquets and weekend concerts.
Before entering full-time ministry, Jimmy traveled extensively in the gospel concert ministry. He has done numerous television and radio appearances. He has been the National Anthem Singer for the Pittsburgh Pirates, the Tampa Bay Devil Rays, the Los Angeles Dodgers baseball teams also the Pittsburgh Steelers football team. Now Jimmy's talents has let him share from churches, college campuses, stadiums, The White House, campaign trail and county fairs.
Jimmy's music has enabled him to work across the United States and in foreign countries. He has performed and worked with many Presidents and First ladies and former Presidents, Super Bowl quarterbacks and celebrities and has worked with many national organizations. He has opened for groups like The Martins, The Keelings, Gordon Mote, Mark Lowry and Ray Boltz and others. In addition to his music, Jimmy is an accomplished ventriloquist.
Combining music and ventriloquism Jimmy takes the stage, with plenty of help from his entourage of characters!! There is Bobby a feisty young man, who knows how to push Jimmy's buttons… he has been with Jimmy since the beginning… when Jimmy began doing ventriloquism at age 12. Then there's the very popular Walter… a grumpy, opinionated old man!! And Carl that lovable frog Kermit's cousin… Sparkie a very lively animated Dragon… The very talented Louis Armstrong and boy!! Can he play a trumpet!! Benny who spends most of his time managing his restaurant. "Saul" who reminds you of a very famous uncle on Duck Dynasty… Little Jeff… a very…?? Let's say…ornery young man…. And the Classic Charlie McCarthy.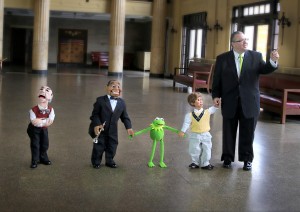 Jimmy's cast of characters are anything but dummies, they have taken on lives of their own. Each one has their own loyal fans!!!
Jimmy Swogger is presently the Lead Pastor of the Oakland Church of God. Oakland is a growing church located in Distant, Pennsylvania.
Jimmy is very experienced, and in demand for speaking and music events. Each year he speaks at numerous revivals and camp meetings, retreats, and ministers gatherings nationally. He is a concert artist, ventriloquist, motivational speaker, and a professional life coach.